The Form module allows you to gather information from your users. You basically get a Typeform functionality embedded natively into the builder.
To get started with the Form module, simply drag and drop the module into your builder. We'll build a simple form together to demonstrate the capabilities of this module.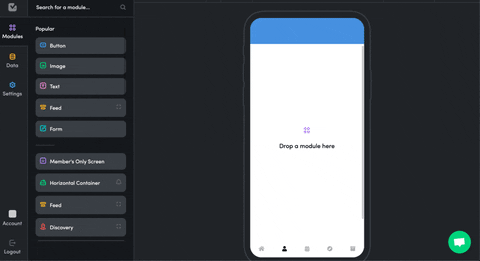 We'll begin to editing the form module by rearranging and resizing the prebuilt elements. My first step is to set the backgrounds to transparent. As with other elements, you can always customize the color of your elements.
Now let's take a look at some of the elements inside the module.
Fields
Action
Input
So here are some ways in which we can begin to customize our form.
Select the box in your form that you want to customize. By default, when you drag over a form module, you have a textbox and a button.
The options include Label title. If you choose to have something here, a label will appear above your box. When you enter a title here, notice that your textbox identifier changes from textbox 1 to whatever Label title you entered, in this case, name.
You can mark the checkbox if you would like this field to be required.
The placeholder text can guide your user enter the appropriate information. This is really good UX practice!
From the input style tab, you can choose what you want the box to look like. The builder offers 3 customization options: square, rounded and line.
Tip: try to stick to just one style as you build out your form.
The Field Type dropdown offers you 4 different options for the type of value to be entered into your form. They are
Textbox - ideal for names, phone numbers and the like
Email - for... emails...
Dropdown - set multiple options for users to choose from
Checkbox - users can confirm their options there, useful for agreeing to terms of service or validating information
The true power of forms comes when we combine the elements we need to create a form that is easy to use for our users and grants us the information we need. Check out our example form.
Keep the forms short and sweet. Users don't like to be bombarded with huge forms, especially in the mobile phone where they like things to be done quickly.
The Actions tab allows you the option to send your data to different places for different actions.
You can send to email.
You can send right back to your Airtable base.
You can send to Zapier to automate a process.
Published on: 05 / 10 / 2020