Let's get started designing your first screen.
To give some style to your screen, let's add a header.
Select the screen you want to edit. In this case, we'll be editing Screen 1.
From the panel on the right, select the header color. You can choose one of the preset colors or explore more options with the color picker tool.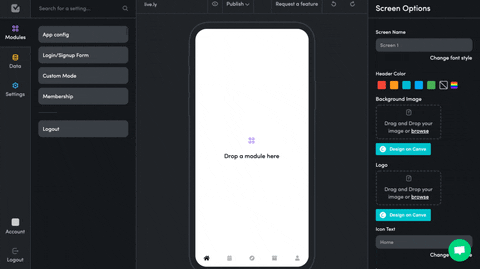 That's it! Things are starting to take shape. Do you want to have a background image?
You can add a background using our Canva integration.
All you have to do is this:
Click on the Canva button.
This will open up a Canva sign-in screen. From here you can create an account (it's free!) or sign in to your existing account.
Design away! You can keep it simple or let the artist in you express freely in the canvas. It's

your

app, your rules.
Once you're done, click Publish and the design will automatically appear in your screen. It's that simple.
You can watch Keith do this by watching
this tutorial.
Of course, you can always upload your own file!
You have full control over each screen which means they can all look the same or they can all look different. The design is up to you.
Guess what? You can call yourself an app designer now. 😎
Published on: 29 / 09 / 2020